Forest Vale Greenhouse Review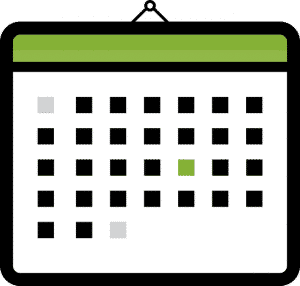 First Published: 6th October 2020
Last Updated: 4th March 2023
I've known about Forest's Vale greenhouse range for a good number of years, however, this will be the first review of a wooden greenhouse range on GreenhouseReviews compared to the usual metal varieties, so it's a long time overdue! But putting that aside, there's just something elegantly traditional about timber greenhouses over metal ones, and they do not at all look out of place, no matter the garden setting.
The Vale greenhouse range offers a very traditional-inspired design, is wonderfully constructed, and is even more wonderful to grow your own with. If you're considering purchasing a new greenhouse, especially a timber-framed one, then this full Forest vale greenhouse review is a must-read!
Features of the Forest Vale Range
Frame: Pressure Treated, Smooth Planed Timber
Glazing: 4mm Toughened Glass as Standard
Includes: 1-2 Roof Vents (size dependent)
Includes: Shelving Along One Side
Includes: Delivery Direct by the Crafter with Free Installation
Feature: 12mm Thick Tongue & Groove Cladding
Feature: Real Key Lock Door Mechanism
Feature: Long-Established Uk Crafter
Feature: 15-Year Manufacturer's Anti-Rot Guarantee
Framing
Forest use slow grown, kiln-dried timber for their Vale range of greenhouses. However, for long life and to back up their 15-year anti-rot guarantee, each piece of timber is pressure treated with a wood preservative which helps to ensure it's protected against rot, decay and weathering for many years to come. Although, it can be painted at home with a good quality outdoor wood paint after being installed if you did prefer to change it up with a personal colour finish. A traditional white or duck egg paint job would no doubt look fabulous, although, keeping the natural timber look is also a popular preference.
Internally, you'll find a pretty durable 70mm x 45mm framework of battens, offering a strong robust structure that shouldn't have any hassle standing up to the harshest of winters within the UK. While 12mm thick tongue and groove board panels make up the walls and door underneath the glazed windows.
Another positive thing to note about Forest is that the majority of their timber products, including these vale greenhouses are crafted using a majority amount of timber sourced from FSC (Forest Stewardship Council) certified locations, based in the UK. Meaning that the wood used has been responsibly sourced and new trees planted in place of felled ones.
Glazing
There's not much to say about the glazing on these greenhouses as Forest have already made this as easy and efficient as can be. As standard, each one comes complete with 4mm thick toughened safety glass, which personally, is one of the best glazing types I would recommend so it's great to see Forest offering this as standard.
Toughened safety glass is... as per the name - toughened. Being a long stronger than cheaper horticultural glass and a lot safer to have where children and pets may be close by, as if ever smashed, it breaks into tiny pieces rather than dangerous larger shards.
Available Size Options
This range is available in a choice of three sizes, with a full list of these being:
Other Notable Features
Ironmongery - Inner hinged doors keep the aesthetics looking neat whilst also adding a little extra security. All ironmongery, door handles and roof vent handles etc are included, which also consists of a real key-lock mechanism on the door.
Roof Vent(s) - Either one or two roof vents are included depending on your chosen greenhouse size. These are also complemented by a free auto vent opener, which opens and closes the roof vent(s) automatically as the outside temperate changes throughout the day.
Internal Shelves - On all sizes, internal shelves are included on one side within the greenhouse. This includes a staging shelf and a thinner top shelf, giving plenty of space for storing pots and repotting your seedlings with ease.
Hand Built to Order - As per Forest's literature for this range, each one is hand-built to order. This is quite an uncommon practice in this day and age where machinery normally fulfils the entire crafting process, however, with the Vale range, each one is hand-built alongside the mechanically driven crafting stages.
Installation Included - To top it off, whichever retailer you buy from, these greenhouses are delivered directly from Forest and are installed by their own team of installers... which should be all included in the one price you pay from the retailer. Just make sure that you have a flat, hard standing and level area readily prepared before the installation team arrive.
Review Conclusion
If I were to be looking at buying a new greenhouse myself (at the moment my current one is only 2 years old), then one of these would definitely be at the top of my list. There are no customisation options and no additional accessories available, but with what's included as standard already... do you really need anything else? Maybe a louvre window, but I personally don't use one in my current greenhouse anyway. Overall, I think that these Forest Vale greenhouses are truly magnificent and would highly advise anyone looking into buying a timber greenhouse to consider one if the size and budget is a good match to their preference.
Rating
Assembly - The inclusive installation service offered by Forest negates any worry or hassle of having to install these greenhouses yourself... great stuff!
Quality - For the price, the quality is good with the 70mm thick frame work, 12mm thick wall cladding and 4mm toughened glazing.
Range - The only downside to this range is that it's only available in one of three sizes.
Value - Considering installation and internal shelves are included in the price, it's highly competitive and good value for money when compared to other brands offering the same size, accessories and glazing options.
Warranty - The hefty 15-year anti-rot guarantee provided by Forest Garden is a real bonus and gives confidence of it lasting for many, many growing seasons!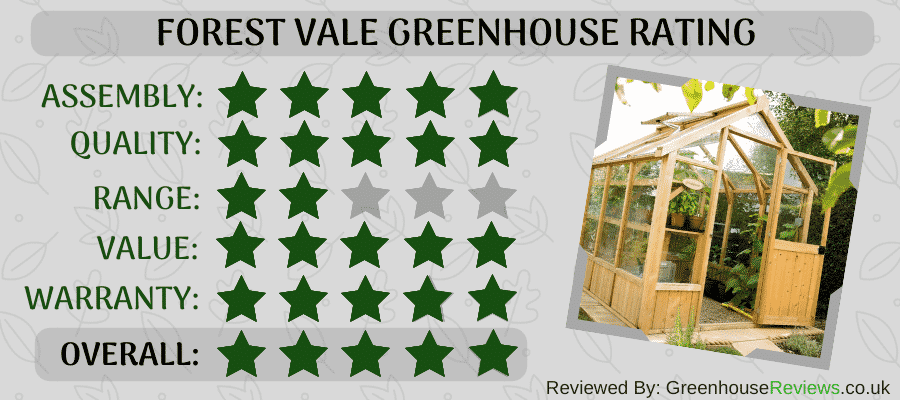 This review relates to greenhouses with manufacturer model number(s):
M6X4GHIN, M8X6GHIN and M10X8GHIN
Manufacturer: Forest Garden