Top 10 Tips For When Buying a Greenhouse
If you're looking to buy a new greenhouse, whether to replace an existing one or to enjoy as your first, then it's better to not rush into hitting that 'buy' button until you've done a little research on what you'll be getting.
Buying a greenhouse will probably be one of the biggest items that you get delivered to your home, and have installed in the garden, so it's important to ensure that you choose the perfect model to suit your needs and the available space within your garden. So read on to see our top 10 tips for buying a greenhouse online, choosing a model, and how to get the best price and service from the greenhouse shop of your choice.
Tip One
Have a budget in mind in advance. Greenhouses can range in price heavily from a few hundred pounds to several thousand. By determining your available budget early on, you can more easily narrow down your options, set your expectations on a maximum size, and avoid overspending.
Tip Two
Location, location location! Next up is to consider the location of where your new greenhouse will be sited in the garden. This also includes the orientation (which way will it be facing).
It's always better to choose a location that gets plenty of sunlight, but also consider factors such as wind, shade, and drainage. Siting the greenhouse to face south will typically provide the most sunlight, but ideally you should have natural wind blocks nearby (although not close enough to touch) such as a fence, perimeter wall, hedges or tall bushes. Just don't put your greenhouse underneath a tree, as falling branches may damage it.
Tip Three
Choose the right size - for both the space you have available and for the amount of growing you plan on doing inside of it. Measure the area where you plan to place your greenhouse and make sure to choose a size that will fit comfortably in the space. Consider the amount of plants that you plan to grow and how much space they will need. Most greenhouses are sized in feet, and one bag of compost laying on the ground is around 3 feet. This may help you to better visually depict how long you would like your greenhouse in order to accommodate a certain amount of compost bags on the ground (if you plan on growing in compost bags inside your greenhouse that is).
Tip Four
Consider the main material for your new greenhouse. There are three main materials for the frame of the greenhouse, including aluminum which is the most popular, timber which is more traditional but more expensive, or plastic, which is usually cheaper but a lot less sturdy vs aluminium and wood. Each material has its own pros and cons, so consider factors such as durability, maintenance, and cost when making your decision.
Tip Five
Look out for inclusive features that you would like. Different greenhouse ranges and brands come with different features, such as ventilation, shading systems, and heating options. Consider which features are most important to you and look for a greenhouse range that has them. Some brands or ranges come with certain features included, whilst others may charge extra to include something.
Ideally, if applicable to the model you're looking at, you'll want it to come with a base plinth, and one or more roof vents as these will make installing the greenhouse at home a lot easier, whilst offering good ventilation.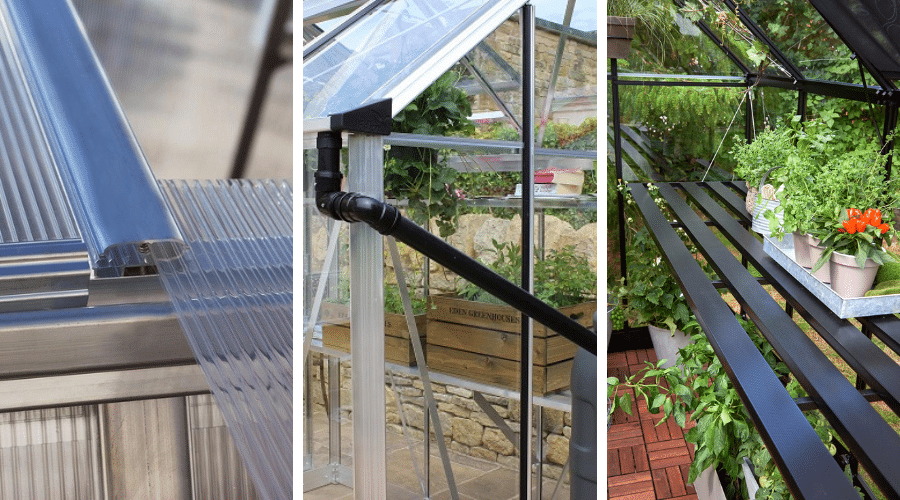 Tip Six
Read up on reviews! Before purchasing a greenhouse, be sure to read reviews about it from other customers who have already purchase it in order to get an idea of the product's quality and any potential issues. Of course, you can always read our review on it, if we have one available for your model of choice on our greenhouse reviews page.
Tip Seven
Don't just hit the buy button on the first online shop that you come across, but instead compare prices. Shop smart by looking around and comparing prices from different retailers to ensure that you are getting the best price. You can always browse our list of recommended greenhouse shops here.
Tip Eight
Do a quick check-up of the online shop if you've never heard of them before. If they're reputable, you should easily be able to find their company details such as address and contact details, their social media accounts, and reviews from their passed customers. From this you'll be able to see if they have a good track record of customer satisfaction and service.
Tip Nine
Check the shop's return policy in advance. Make sure to read their terms or return policy before making a purchase, just in case you need to return the greenhouse for any reason then you'll know your rights in advance. Some greenhouses, especially those made from timber or one's provided in custom colours may be 'made to order' and so their return conditions may be different.
Tip Ten
Consider the delivery timeframe and assembly process. The majority of greenhouses from reputable retailers are available with free delivery within mainland UK, however just check the delivery timeframe in advance so that you know what to expect. Greenhouses after all are huge structures that require a specialist delivery service, which takes longer to complete compared to a normal parcel. Additionally, consider the assembly side of things. You will most likely need a minimum of two people to install the greenhouse if you're doing it yourself, with some greenhouses taking between 6 - 8 hours, so giving yourself a weekend to complete it is a good idea.