Eden Bourton Greenhouse Review
The largest size greenhouses within the whole of Eden's offering, the Bourton greenhouse range comes in a mammoth ten-foot width and depths of up to twenty-feet! Each model looks superb and would no doubt be a proud structure for any gardener to have within their outdoor space.
This range is definitely made for those with a large garden and looking to make the most of the flowers, plants, fruit and veg that they can grow. They look fantastic, mixing both modern and traditional aspects together, and so without further adieu, here's our full Eden Bourton greenhouse review.
Features of the Eden Bourton Range
Frame: High-Profile Aluminium Frame
Glazing: Horticultural, Toughened or Polycarbonate
Includes: 4 - 6 Openable Roof Vents (side dependent)
Includes: Integral Base Frame
Includes: Wide-Capacity Integral Gutters
Feature: Zero Threshold Entry Access
Feature: Double Sliding Doors with Key Lock
Feature: Long-Established British Brand
Feature: 12-Year Limited Manufacturer's Warranty
Framing
Such a large-sized greenhouse is no doubt going to need a very solid frame, especially as it needs to accommodate and hold a huge amount of glass. But don't fear, we've seen these frames in person and they look even better in person, the imagery really doesn't do it justice.
Heavy-duty aluminium beams make up the main frame of the greenhouse, which is then reinforced even further by a super-strong ridge bar and the metal base frame, which is included as standard (normally charged for extra with other brands).
Aluminium is an ideal material as it's great at withstanding weathering, especially rust and corrosion, however it's also highly durable which let's these greenhouses stand freeley up to 20ft depths and an overall ridge height of 9ft! That's incredibly tall for a greenhouse, and offers so much extra room vertically, perfect for those vine-growing plants and edibles such as tomato and bean plants.
Available in three colours, each size of the Bourton greenhouse is available in either standard silver aluminium, powder-coated green, or powder-coated black. The green version offers a very traditional look, that would no doubt fit in beautifully amongst a lawn or bushes, effortlessly fitting into its surroundings. While the black, a pretty unusual colour finish for a greenhouse offers a modern-day finish that would not look out of place an a slabbed or patio area, or really anywhere in the garden as the black frame contrasts wonderfully with the abundance shades of green and browns within the garden.
Glazing
For such a big structure, the glazing will be an important choice and shouldn't be chosen lightly. There are three glazing options to choose from for this greenhouse range, and each one will no doubt offer a fabulous growing space and an environment your budding plants will thrive in, although there are advantages and disadvantages to some of the available glass types.
Horticultural glazing is the standard glazing type and is provided as the standard option for every Bourton greenhouse. It's the most cost-effective but does have a couple of drawbacks. Firstly, horticultural glazing is provided as 2ft by 2ft panes of glass, which is traditional although can look more unsightly when compared to the other two glazing options, as there are more parts to it and its appearance is less streamlined. Secondly, it's not the safest when children and pets are concerned - if a pane were to ever be broken, the glass would break into unpredictable shards, of large and small pieces, and could cause danger to anyone close by.
Toughened glass is the second glazing option, and does have an additional cost involved to upgrade, although has the benefits to prove the price difference. As the name suggests, its toughened as each piece has been tempered to increase its overall strength resistance to impact. However, it's still glass and could still potentially shatter, but thanks to the tempering process, if it were to ever be smashed, it would break into small tiny pieces, rather than large dangerous shards.
The third glazing option is polycarbonate. Which again, comes at an additional upgrade cost, but offers a lot of advantages. At 6mm thick, the polycarbonate used within the Bourton range has incredible strength and is classed as being 'virtually unbreakable' due to its high impact resistance. If ever smashed, which would be a pretty tough thing to do, it wouldn't break into dangerous shards or pieces - thus making it the safest option for when children are present.
Polycarbonate also offers exceptional growing advantages for your crops. As it's twin-walled, similar to double-glazing, it two walls with an air gap in between. This air gap allows hot air, warmed up by the sun to get trapped inside the glazing, and inside the greenhouse, letting your plants make the most of the Sun's natural heat source for longer as it's not as easily dispersed away and lost.
Buyers Tip: If buying a greenhouse online, just ensure that the retailer you choose sells genuine Eden branded glazing along with the frame, as some of the cheaper selling retailers only sell an Eden branded frame and bundle it with their own cheaper alternative glazing and accessories.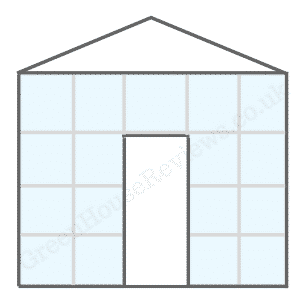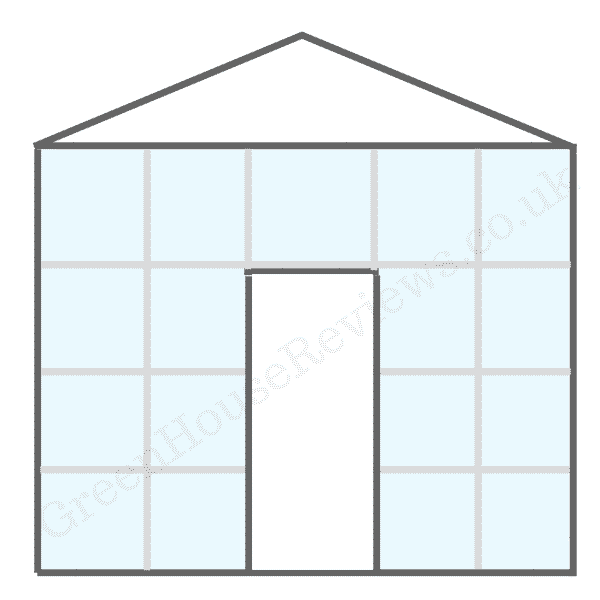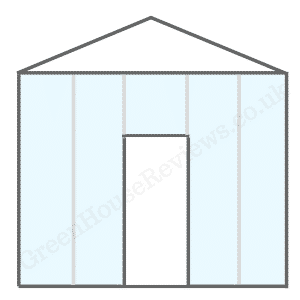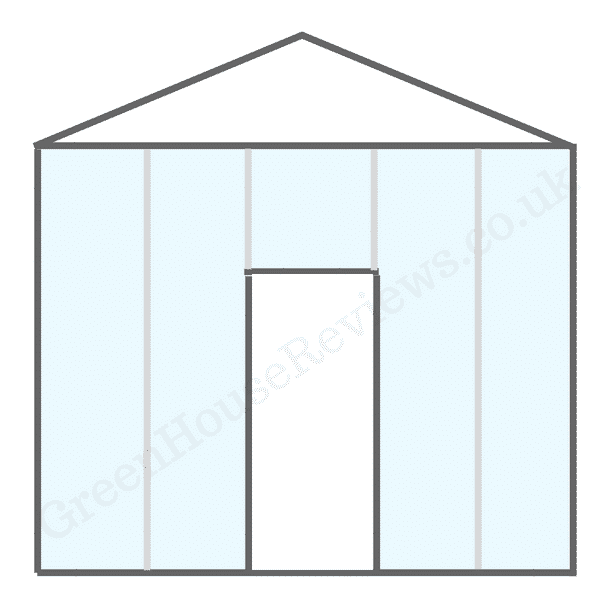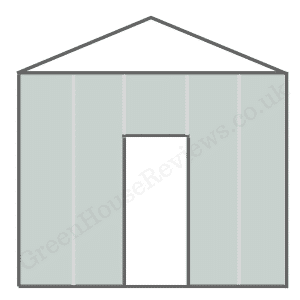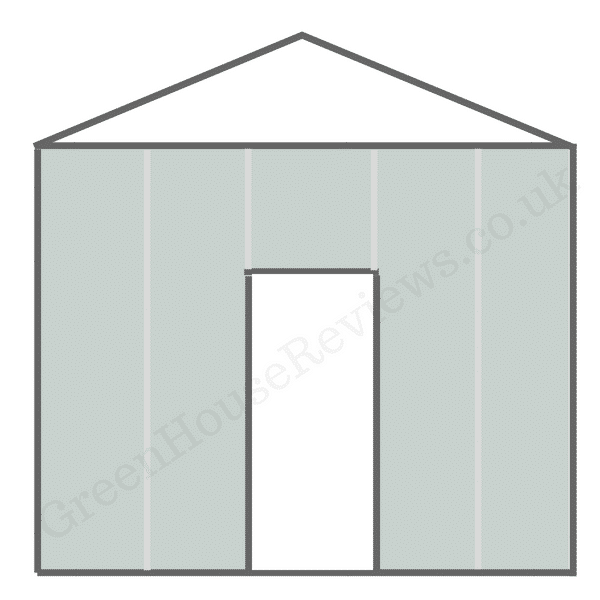 Available Colour Options
The Eden Bourton greenhouse range is currently available in the UK with a standard silver aluminium frame, powder coated green or powder coated black frame.
Available Size Options
Offering the largest sized greenhouses in the whole of Eden's range, the Bourton is available in a choice of three sizes, with a full list of these being:
10ft Wide by 12ft Deep
10ft Wide by 16ft Deep
10ft Wide by 20ft Deep
As pictured left to right: 10ft x 12ft, 10ft x 16ft and 10ft x 20ft sizes.
All three sizes boast the same impressive ridge height of 9 foot high!
Review Conclusion
If you're looking for an impressively sized greenhouse, then the Bourton is surely a high contender, with heavy-duty framing, choice of three glazing types and a whole host of optional accessories to help you make the most of all the growing space inside! Being from a well-known manufacturer along with a 12-year guarantee makes this range a great buy!
Rating
Assembly - Due to the large size, assembly should take around 8 hours, but it's best to spend half an hour beforehand getting yourself familiar to the instructions and parts.
Quality - The framing is of exceptional quality, especially with the addition of the integral base frame, low threshold entry and reinforcement features. The double doors feature a real key-lock mechanism, finishing off the high-quality look and feel.
Range - With three colour options and three sizes to choose from, there's bound to be the ideal model to match your garden, as well as an array of accessories to customise your new greenhouse even further.
Value - For the premium features, thick framing and inclusive accessories, this range offers good value for money.
Warranty - The hefty 12-year guarantee provided by the manufacturer is a real bonus and gives confidence of the quality and craftsmanship gone into making the range.

If you're looking to purchase an Eden Bourton greenhouse, use our 5* recommended retailer:
1000's of 5* Trusted Reviews
Free Delivery within Mainland UK
Helpful Staff & Customer Service
Safe & Secure Payments