Forest Victorian Tall Wall Greenhouse Review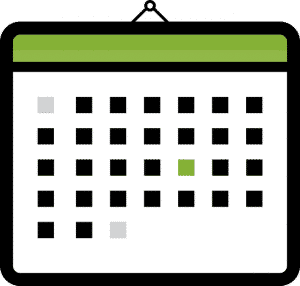 First Published: 23rd October 2020
Last Updated: 4th March 2023
Super popular and highly admired by growers of all experience, the Victorian greenhouse by Forest is ideal for all sized gardens from small to large. It not only looks very classy, but this Victorian-inspired structure is perfect for starting off seedlings, growing and repotting and even catering to some tall-growing edibles such as tomato and beans plants.
Whether you already have a full-size greenhouse and require more space or only have a small garden to fit a compact greenhouse, this could just be the perfect fit for your grow your own ventures. If you're considering purchasing a small fitting greenhouse, especially a timber-framed one, then reading our full Forest Victorian tall wall greenhouse review is advised!
Features of the Forest Victorian Tall Wall Range
Frame: Pressure Treated, Smooth Planed Timber
Glazing: Child/Pet Safe 2mm Acrylic Glazing
Includes: 2 Roof Vents
Includes: Integrated Staging
Feature: 12mm Thick Tongue & Groove Cladding
Feature: Easy Access Double Doors
Feature: Long-Established Uk Crafter
Feature: 15-Year Manufacturer's Anti-Rot Guarantee
Framing
Forest use imported slow grown, kiln-dried timber from Poland for this greenhouse model, which to extend its durability and the life span of the timber is pressure treated with a wood preservative to prevent rot and fungal decay. This is backed up by their 15-year anti-rot guarantee, which gives added peace of mind that it's crafted to last for many, many growing seasons to come.
Although some of the photos show the greenhouse painted in a lovely cream coloured finish, it's delivered unpainted in its natural pressure-treated state. So you could if you wanted to, paint it at home in any colour of your preference to perfectly match your garden. Although, the painted version in cream definitely does help to bring out the traditional 'Victorian' look even more.
Internally, you'll find a 35mm x 35mm framework of battens, offering a robust structure that shouldn't have any hassle standing up to the harshest of winters within the UK. A back board is included as standard so that the greenhouse can be installed free-standing, not being required to go up against a wall if this doesn't suit your garden layout. While 12mm thick tongue and groove board panels make up the walls and door underneath the acrylic glazing.
Another positive thing to note about Forest is that the majority of their timber products, including this one, is crafted using a majority amount of timber sourced from FSC (Forest Stewardship Council) certified locations, this one being imported from an FSC source in Poland. Meaning that the wood used has been responsibly sourced and new trees planted in place of felled ones.
Glazing
This greenhouse model is only available in one glazing type; acrylic. These 2mm thick plastic sheets will surely let in plenty of light and is highly safe around children and pets as it's flexible enough to not shatter into dangerous shards when damaged, unlike horticultural glass. However, I'm sure that I'm not the only one who would have liked to have seen a toughened glass upgrade option, similar to what's used in Forest's Vale greenhouse range.
Available Size Options
Due to the compact, Victorian-styled design which Forest was going for, this greenhouse is only available in one size option. This being:
Width: 4ft 9ins
Depth: 2ft 6ins
Height: 6ft 6ins
So a rough nominal size (rounded) of 5 foot wide by 2.5 foot deep.
Notable Features
Internal Shelves - The internal shelves as seen pictured are all included, giving ample storage space for all of those pots and seed trays. The lower, central staging section can also be folded up/down to allow you to fully enter the greenhouse or to allow tall growing vine plants to grow in the centre, perfect for those tomatoes!
Roof Vents - Two roof vents are included as standard. These are both manual opening and are great for ventilation during hot summer days. However, optional auto vent openers are available through most Forest retailers which allow the vents to automatically open and close when the outside temperature changes.
Review Conclusion
I love this greenhouse, I really do. It's great for those with smaller gardens who wish to start growing their own without being overwhelmed, while also being highly practical for the more experienced growers who need extra space, especially to start off seedlings and to grow smaller saplings inside. Sure, for the price you could get a larger metal greenhouse, but for a timber greenhouse that has so much charm and workable space, it would definitely make a worthwhile investment to any garden.
Rating
Assembly - The walls, doors, back and vents are already assembled into convenient panels, so it's just the case of screwing it all together to the framing battens. Really easy compared to a metal greenhouse and should only take 2 hours or less!
Quality - For the price, the quality is good with the 12mm thick wall cladding. Although I feel that the 35mm framing could have been a little chunkier, as well as a better option for glazing apart from the 2mm thick acrylic.
Range - It's only available in one size and with only one non-changeable glazing option.
Value - Considering two roof vents and internal shelves are included in the price, it's pretty competitive for a wooden, Victorian-styled greenhouse, even taking into account the points above. The included staging/shelves far outweigh the negatives.
Warranty - The hefty 15-year anti-rot guarantee provided by Forest Garden is a real bonus and gives confidence of it lasting for many, many growing seasons!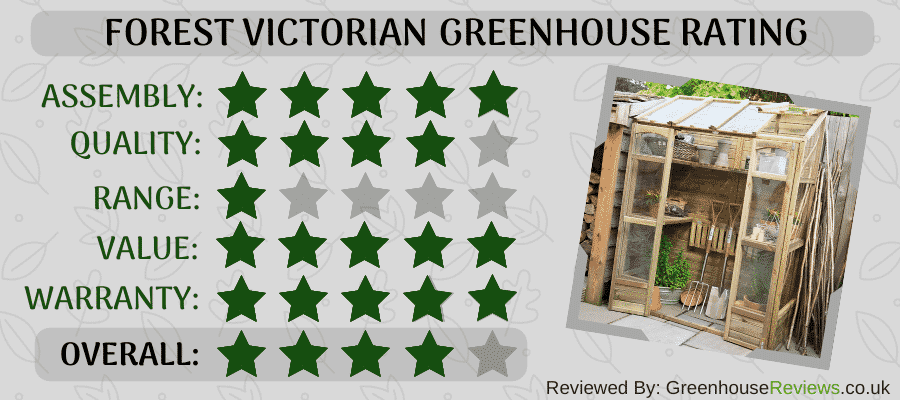 This review relates to the greenhouse with manufacturer model number(s):
VICTGH, VICTGHHD, VICTGHAV, VICTGHAVHD
Manufacturer: Forest Garden